APPRENTICESHIPS WITH DANIEL GALVIN
Gain practical industry experience, whilst getting qualified.
HAIRDRESSING APPRENTICESHIP
A uniquely exciting hairdressing apprenticeship; train with Daniel Galvin's world-class, award-winning team.
THE APPRENTICESHIP PROGRAMME
With a commitment to quality and training, a hair apprenticeship with the award-winning, world-class, family-owned Daniel Galvin business will allow you to gain relevant, hands-on experience from working backstage at London Fashion Week to assisting on photo shoots and skill sessions with the best stylists and colourists in the industry. You'll be a valued member of our inspiring, respectful, hard-working team, at the same time as gaining a nationally recognised qualification.
The Daniel Galvin Apprenticeship Course involves three years of training with Daniel's hand-picked team of top hair stylists, colourists and world-class educators.
Successful apprentices will graduate with an NVQ Level 2 from the London Hairdressing Apprenticeship Academy LHAA , London's top NVQ Level 2 training course provider. Daniel Galvin seeks applicants with a real passion for hair, a strong work ethic and the drive to succeed within our supportive team.
While no previous experience is necessary, creative flair, great communication skills, reliability and the ability to work well in a team will be a distinct advantage. If the prospect of starting your hairdressing career at Daniel Galvin excites you and you are a school leaver, then we would love to hear from you!
OUR APPRENTICESHIP EXPERIENCE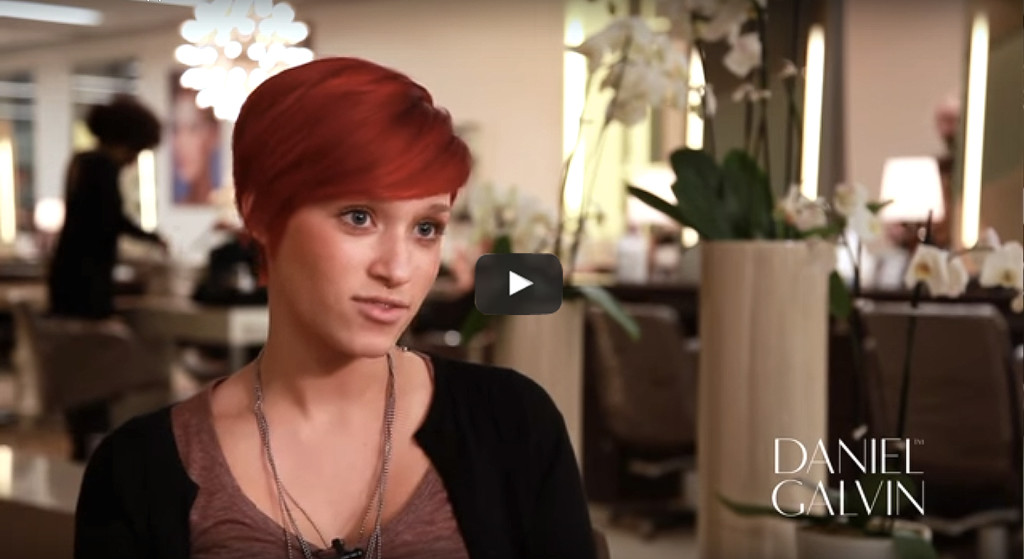 WORK BACKSTAGE AT LONDON FASHION WEEK!
Work alongside the Daniel Galvin creative team backstage at LFW on some of the top shows with the biggest fashion designers in the world. This is where dreams come true and you will see your work walk down the famous catwalks at Fashion Week. This invaluable opportunity offers a life-changing experience and will help shape your talents and sensibility as a creative hairdresser, allowing you to experience the skills and contacts you need for your future career as a leading session stylist or colourist.
BE PART OF THE L'OREAL COLOUR TROPHY COMPETITION
Every hairdresser in the industry wants to be a part of the famous L'Oreal Colour Trophy! It's the longest running live hairdressing competition in the world and you could have the chance to assist our team in creating show-stopping hair creations. Imagine being part of the winning hair salon team; at Daniel Galvin you will be working alongside the very best in the industry.
ASSIST ON MAGAZINE PHOTO SHOOTS
From mood board creative planning and brainstorming with the team to helping with the styling at the shoot with the stylist and photographer, you can experience the buzz of working at an editorial photo shoot where you'll learn from the best hairstylists in the industry! You may even have the opportunity to work abroad on films and photo shoots, assisting our award-winning hair team. See your hard work published in magazines, online and shared on social media knowing that you helped create that exciting new hair trend that everyone is talking about.
LEARN FROM THE BEST IN THE INDUSTRY
Master your skills by learning from the very best hair colourists and stylists the industry has to offer; they'll be your mentors so soak up as much as possible and embrace every step. Knowing that you will be part of one of the most prestigious hair salons in the country and that you will be working with some of the most famous names in the industry will give your hairdressing career the strongest kick-start imaginable.
A HAIRDRESSING CAREER WITH ENDLESS OPPORTUNITIES
The Daniel Galvin Apprenticeship will not only give you the hands-on experience you need to become an amazing, qualified hairdresser, but will allow you to learn from the top stylists in the industry at Europe's largest hair salon – a truly invaluable addition to your CV!
Once you have successfully completed the three-year course and have your hairdressing certificate under your belt, you will be qualified to work at one of the three Daniel Galvin salons in the UK, including the Selfridges salon.
Many of our Apprenticeship graduates have gone on to work as talented freelance hairdressers, working regularly as session stylists and colourists on editorial and advertising shoots, and at other top London hair salons.
Daniel Galvin offers a hairdressing apprenticeship that will give you endless opportunities..
SKILL SESSIONS
As part of The Daniel Galvin Apprenticeship you will be able to work independently on real clients at model nights, which will be run twice weekly by one of your hairdressing mentors. Put everything you've learnt into action and experience that amazing feeling of working your magic on a client's hair. You will receive valuable feedback, tips and advice to help shape you as a brilliant hairdresser and teach you everything there is to know!
EARN WHILST YOU LEARN THE ART OF HAIRDRESSING
Earn a monthly salary, whilst learning the hairdressing trade and graduate with an NVQ Level 2 from the London Hairdressing Apprenticeship Academy LHAA, the top NVQ Level 2 training course provider.
There's nothing better than having the chance to do what you love and be paid for it and with the Daniel Galvin Apprenticeship you can.
BE PART OF OUR TEAM
Are you a school leaver looking for a job in hairdressing? If you are passionate about hair and would love to work in this creative industry and learn from the best of the best, then apply for our Apprenticeship Hairdressing Programme. Daniel Galvin seeks applicants with a passion for hair, a strong work ethic and the drive to succeed.
There's nothing better than having the chance to do what you love and be paid for it and with the Daniel Galvin Apprenticeship you can.
My first day was nerve-wracking because Daniel Galvin is such a top name. I had worked in a smaller salon before and soon realised how different the atmosphere was here – you have to work hard, but it is fun & relaxed. You get a rush of excitement because its a big busy salon.

Working in the salon means I learnt every day, I was assigned to a colourist and they teach you everything. All day, every day you are picking up skills and learning – not just twice a week! I really enjoy learning from the best and working for Daniel.

Saskiia, completed her 3 year apprenticeship in February 2011
I chose Daniel Galvin as it's such a big salon and get to work alongside so many colourists and stylists as well as help work with different celebrities and clients all day everyday. It's a great experience!

1st Year Hairdressing Apprentice, Jake Thoburn
You learn a lot more from others around you, it's a better atmosphere and it's great if you're a hands on person like me.

The things I enjoy most is working alongside some of the top stylists in London, working with the high-profile celebrities, working on photoshoots, music videos and TV programmes!

Carina Stroud, 3rd Year Hairdressing Apprenticeship Complete
I thought I would be able to get much more experience in a salon and learn a lot more as I'd be working with seniors a lot more and watching how they work. I just love working here as I work with someone now and I get on well with them and the juniors. The atmosphere is great.

I'm much more confident as I speak to hairdressing clients all day and now I'm much more independent. What makes a good apprentice is always having a smile on your face! It's an amazing place to work and everyone gets on really well!

Olivia Freeman, Hairdressing Apprenticeship to Advanced Stylist
ASK AN

APPRENTICE

As part of National Apprenticeship Week, five team members who grew up with the Daniel Galvin brand,  were asked about the benefits of their apprenticeship, passion for hair and work ambition.

Tap on an image
Stephanie
Senior Principal Stylist
Looking back, do you think doing an apprenticeship has enabled you to make a bigger success of your career?
Yes! It definitely put me on the right path. Also, working in London and having the London lifestyle made me more confident and outgoing.
 "Stephanie is one of the most hard-working, dedicated members of the team. She developed a passion and flair for extensions." 
Chelsey
Senior Colour Director
What do you love about your career right now and what do you want to do more of in the future?
I love building relationships with clients and making them feel confident and happy with their hair. Also, I love helping the younger generation with colour choices.
 "Chelsey was initially quite shy but has the most incredible work ethic and commitment. She is very precise in everything she does."
Heather
Senior Colour Director
Why did you choose the apprenticeship route, rather than studying hairdressing at college?
I wanted real life experiences and I loved the idea of being in a work environment. Being at the heart of a busy salon atmosphere inspired and motivated me.
"Her warm personality has made her incredibly popular, she is the go-to person for testing any new products brought to market."
Jake
Principal Stylist
What would you say to a 16-year-old who's working out a future career path?
I would say it's a job with such potential, providing endless opportunities and experience at every step. But be sure you're passionate, as it's hard work at the beginning.
"He has real talent for men's grooming and it's very rare to find someone who is equally as comfortable with both male and female clients."
Saskiia
Senior Colour Director
What happened once you'd completed your apprenticeship?
The salon also sponsored me to complete the L'Oréal Colour Specialist Degree, which was a career boost. But the real highlight was being chosen to travel with Daniel to Japan.
"Saskiia sparkled from day one. It was clear she was incredibly artistic and creative, and the discipline of structured training has allowed her to progress and express her artistry."