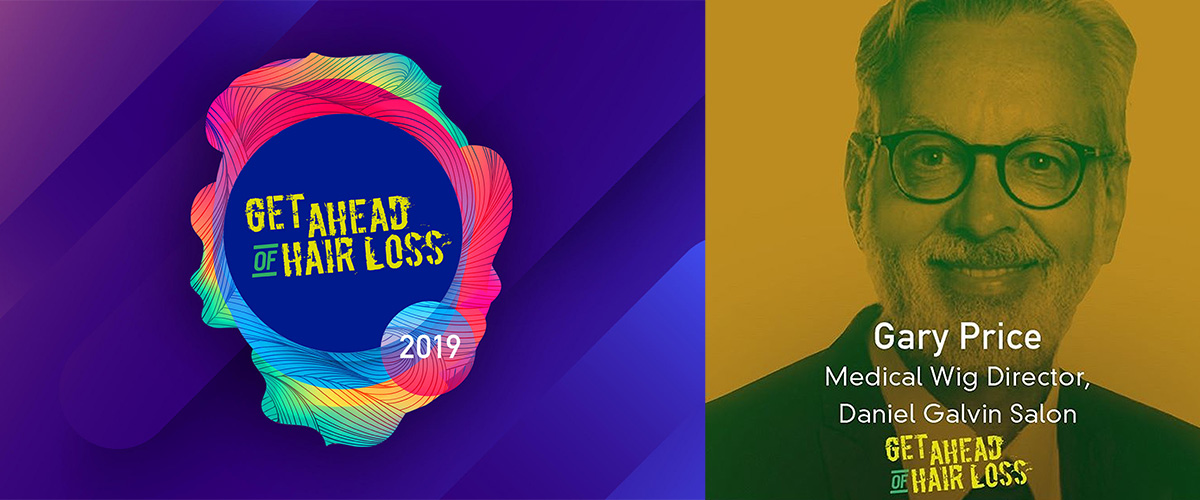 Image: Courtesy of Get Ahead of Hair Loss
Gary Price, Daniel Galvin's Wig Director is invited back again as a main speaker at the 2019 Get Ahead of Hair Loss event this September on the 22nd. The one-day event based at the Royal Society of Medicine 1 Wimpole Street in London is designed to dispel the myths surrounding hair loss. Gary will be speaking about the state of wig provision in the UK, how you can get one and the different types that are available.
Stephen Nurse the operations director at Daniel Galvin is also part of the event, he will be sharing his expertise in the Style Solutions For Professionals session. It covers how to take the stress out of any consultation with the right language, style solutions and treatments. He will be among other top hairdressers including Andrew Barton, Jamie Stevens and Inanch Emir (celebrity hair extensionist) who will cover hair loss styling advice for all ages men and women with different hair types.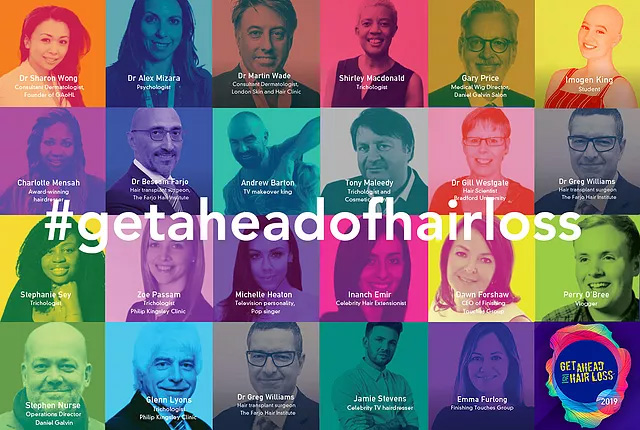 About GAoHL
The Get Ahead of Hair Loss event now in its 2nd year encompasses many areas of hair loss, the psychological effects and cosmetic solutions for public and hair professionals alike. The programme features top speakers in hair; dermatology, trichology, psychology, surgery and hairdressing.
Event Programme Sessions
Scientific
GAoHL is introduced by event founder, Dr. Sharon Wong a consultant dermatologist. Sharon brings 7 years of specialist knowledge in treating hair loss and scalp disorders for patients at a dedicated hair clinic in Homerton Hospital in London. Dr Greg Williams from the Farjo Hair Institute explains the pitfalls of hair transplant surgery. Glenn Lyons explains all you need to know about scalp rashes. Glenn governed the Institute of Trichologists for 10 years and is now Clinical Director at Philip Kingsley. He is internationally recognised in hormone related female hair loss. Gary Price wig expert brings 30 years hairdressing experience creating looks for celebrity clients. He will be talking in depth about wig types and how to go about getting one.
Focus on African-Caribbean Hair
Dr Gill Westgate Hair Scientist Joins Tony Maleedy a Cosmetic Scientist alongside Lekia Lee a Media professional who setup Project Embrace and notable Trichologists talk about hair care and conditions that affect Afro textured hair.
Men's Hair Loss
Causes and treatments of men's hair loss will be presented by Dr Martin Wade. Special guest TV hairdresser Jamie Stevens gives top styling advice and Dr Bessam Farjo a highly qualified hair transplant surgeon joins the group for Q & A.
Psychology
How does it feel when you are losing your hair? How it the effects your relationships, your confidence and your lifestyle featuring TV personality Michelle Heaton and Hair Psychologists.
Cosmetic
Celebrity worthy specialist panel will share their top tips on how to style your hair and how to take the stress out of any consultation with the right language.
Book a ticket now with Eventbrite. Open to public and professionals. Learn more about all the speakers and the complete programme.
Event Sponsors: Mandeville Wigs, Skin Health Alliance, TrendCo, Bam Beautiful, Organic Colour Systems, Hair Gain
Event Supported by: British Skin Foundation, Talk Health Partnership
Gary Price and Stephen Nurse are part of the team at Daniel Galvin. The salon in Marylebone London offers a specialist Hair and Scalp Clinic. The Selfridges salon has a Bespoke Wig Service for the highest quality human hair custom made wigs and stocks a full range of ready to wear wigs.